Edward Conley
(November 10th, 1851 - December 19th, 1942) was the founder of
Pro Hunters of America
, a large hunting organization devoted to all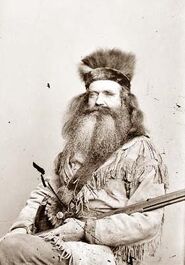 kinds of hunting. Edward was known as a professional hunting legend of his time, and is recognized and honored by many. He is father of
Christopher Conley
(1879 - 1955).
He is the son of Thomas J. Conley (1827--1894), grandson of John Conley (1801--1886) and great-grandson of Niel O'Conley (1769--1839), who came from England to America. He was raised in northern Virginia by his parents. At age 11, he shot his first buck out in the woods. After that, he loved it and did it for sport and game. He studied at Harvard University for 4 years from 1870 to 1874. He was a pure hearted good loving man, and had 4 children; Christopher Conley (1879--1942), Elizabeth Conley (1883--1964), George Conley (1884--1966) and Edward Conley Jr. (1886--1976).
Pro Hunters of America
Edit
He founded the Pro Hunters of America foundation in 1882, and from 1882 to 1895, he lead it as President. In 1895, his son Christopher took control for 20 years in 1915. As President, he lead with a strong fist and more. He went on group hunts in the deep woods with groups of men and came out with good cut meats. He is known to have killed over 5,000 animals, clean cut. This is a legend but is most likely true. Edward didn't talk much though, he was a silent hunter. Later in life, he preferred hunting himself. He always had his musket with him, and had a large beard and hair. He moved to Rein Creek, North Carolina in 1885. The town was a little poor village at the time. After bringing the foundation to Rein Creek, the town grew and grew into the hunting town it is known by today, the citizens, descendants of the hunters who hunted with Edward.
Later in life, after 1920, Edward retried from hunting as his great-grandchildren were being born. He never left the house, he always stayed inside in bed. He fell down with a large sickness in 1938, and for 4 years he was in pain until he died in the deep winter of 1942. He was honored and got buried in a large grave. Remembered by many, as one of the greatest hunters of all time, especially in Virginia. 
---
Niel O'Conley
      |
      |
 John Conley
      |
      |
Thomas J. Conley
      |
      |
Edward Conley + ?
              |_______________________________________
              |             |           |            |
         Christopher    Elizabeth     George      Edward Jr.
              |
            James Conley + Lydia Jackson
                         |_____________________________
                         |                |            |
                    Slim Conley
                         | 
                         |
                   Jack E. Conley
                         |
                         |
                   Samuel Conley
                         | 
                         |
                  Erick E. Conley
                         |
                         |
                   Jack R. Conley