The Rein Creek Cabela's is the Cabela's store in Rein Creek, North Carolina. It is the store used the most and the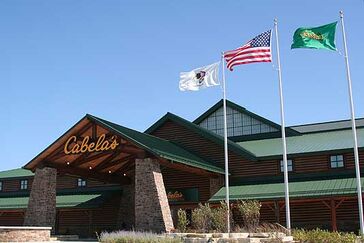 closest to the
P.H.A.
club. It is a large superstore, filled with all you need for the best hunting, and fishing, as well as gun's, clothes, and hooks to make your day.
In and Out
Edit
As the pic > says, it has a large entrance with many people around. It is a log building with a green roof, large one.
Inside, it is a two-story hunter wonderland. Animal heads line the walls, has great replicas in the middle, and clothes and more all around. Upstairs it has seperate stores but is still Cabela's.